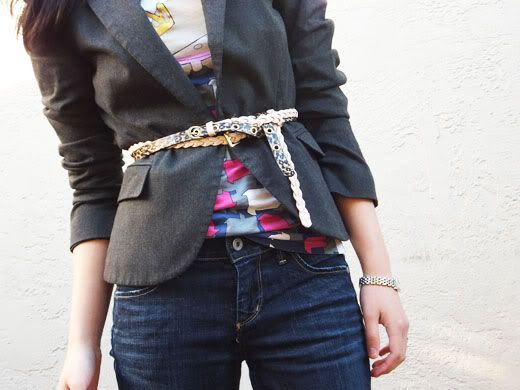 [Shirt: Marc by Marc Jacobs | Blazer: Zara (old) | Jeans: Citizens of Humanity | Shoes: Payless | Belts: H&M | Watch: Citizen | Sunnies: Ray Ban]
Here we go again with the whole layering concept. (I'm on a roll.) This time with belts. I couldn't decide which one to go with, so
voilà
, I put on both. Criss cross applesauce to make things more confusing. I prefer thin belts instead of wide ones because they make me look shorter. I want to intimidate people with my 5'2.5" stature. Duh. Just kidding! Speaking of intimidation... I'm starting to warm up to kitten heels. By the way, I scored these burgundy babies for $7 at Payless a year ago -- they were on sale. Yes,
a year
went by before I took them out. Obviously I want a closet full of Louboutins/Blahniks/Choos, but I can't really pass up on a pair priced at $7. It's nice having something in between my 4-5"s and flats. I'd have to credit my mother's shoe collection for steering me towards kitten heels. If only I could fit into her Sergio Rossi pumps... They're much more sensible for walking anyway.
Since we're on the subject of sensibility, I might just pack these with me when I head over to
New York for Fashion Week
(!!!!!!!!).
I'm ridiculously excited!
I'd punctuate all of my sentences with exclamation points, but I figured that would get annoying. As one of the editors for Chictopia, I have the honor of covering the shows & sharing them with all of you. Only a week & a half left to: a. pack up my entire closet, b. edit down because obviously I can't pack up my entire closet, c. edit even more because of those silly baggage rules/fees, & d. decide what shoes to bring. :)