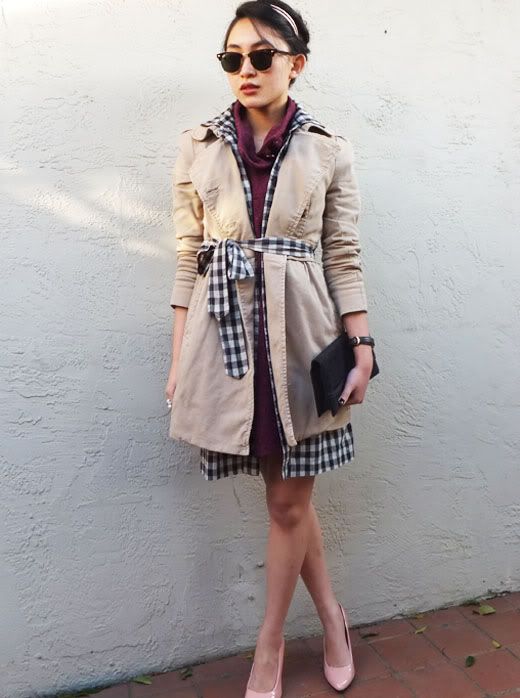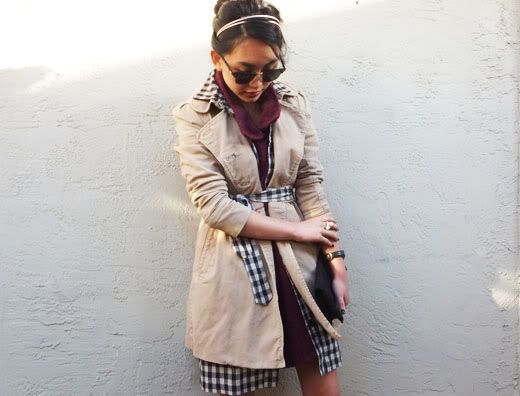 [Herringbone dress: from Macau (label unknown) | Gingham dress: F21 (4 yrs. old) | Trench coat: H&M (old) | Shoes: Fioni | Clutch: Marc Jacobs | Watch: Citizen | Ring: Vintage | Sunnies: Ray Ban]
Doubled up on the cashmere last week, so... Here I am with three different collars. Apparently there is some kind of layering theme going on. They're all different shapes, textures, & colors. I chose to leave the collar standing on the herringbone dress -- it's more interesting in terms of silhouette, I think. Plus, I wanted the buttons underneath to show. The collar on the gingham dress is a traditional pointed collar while the twill coat has curved tips. Decided to cinch the waist with the belt from the gingham dress, because, why not? It makes things less bulky too. No one wants that.
Have you seen the collections from
Paris Spring 2012 Couture Week
yet?
I cried.
Seriously.
One of my (many) dreams is to not only own couture (even just one piece), but to also study the craftsmanship & techniques of creating couture. It actually saddens me that the number of people who possess such special skills are dwindling. I've been spending quite a bit of time just staring at all of the gorgeous pieces that went down the runway.
Oh yeah, I have some amazing news to share -- stay tuned!! :)