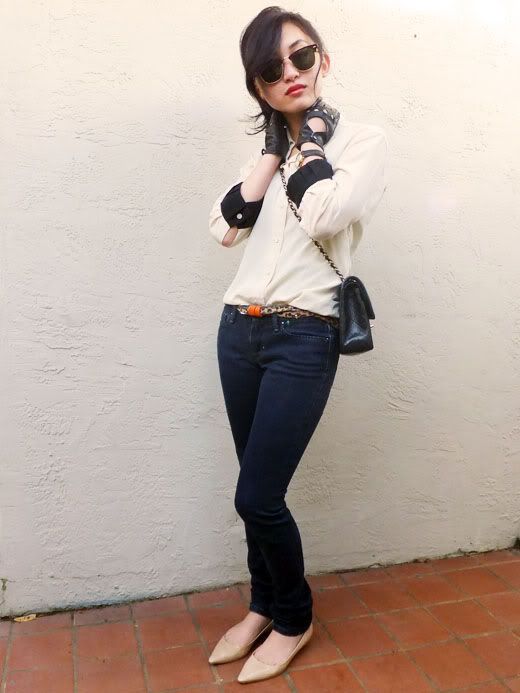 [Button-up shirt: See by Chloe (on sale here) | Jeans: Joe's Jeans | Shoes: Jimmy Choo | Belt: Unknown brand | Bag: Chanel | Gloves: Nordstrom | Watch: Citizen | Sunnies: Ray Ban | Lips: Korres Lip Butter Pomegranate]
Sometimes, the smallest details make the
biggest
statements. Since these cuffs are pleated vertically & folded horizontally, it makes more of an impact. A better contrast, which I'm a huge fan of, especially against the super light & airy silk crepe. I also never realized that my extra pointy-toe flats & this shirt have the same shade of nude. They were
meant to be
. Another thing that was meant to be? This pony hair leopard print belt -- it came in a set of two! The little orange "slices" are fun. The other is the opposite version; an orange leather belt with a small leopard print bow. You already know how I feel about bows.
It was quite an eventful weekend. Spent some time with old friends & met new ones. Great food, even greater company! Although the rain finally let up in the morning, I had to change into my riding boots to avoid frostbite. Had to hop in & out of cabs just so we wouldn't all freeze to death. There was one moment when we strategically hid behind a billboard, hoping the wind wouldn't hit us. Ahh, the perils of San Francisco weather.
Follow other bloggers participating in the
15/30: The Capsule Wardrobe Project
on
Pinterest
!
Similar look:
Shirt: See by Chloe (adore this print) | Jeans: Joe's (petite); Joe's (love it in plum) | Shoes: Sam Edelman | Belt: TopShop